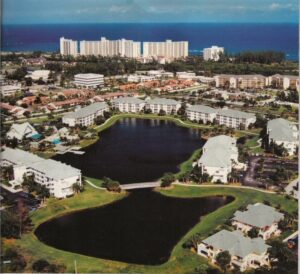 Jupiter Bay offers an ideal lifestyle in beautiful Northern Palm Beach County.  We are adjacent to Carlin Park, with its beautiful beaches, heart trail and amphitheater.  We're a short walk to Jupiter's Riverwalk and "Funky Fishing Village".

This website was developed for both condominium owners and Community Association professionals.  It's purpose is to improve our communities by:
Sharing knowledge and ideas with and among owners,
Communicating information regarding the Jupiter Bay Condominium Association,
Presenting important facts regarding Jupiter Bay's Condominium Documents and Florida Statutes,
Providing insight into condominium association administration and management,  and
Helping owners better understand the governing concepts of condominium living.
We anticipate that this website will encourage more active owner participation and positive contribution to the communities.  It will endeavor to help promote open communication and dialog among owners and association staff and management.
The website provides more general (non specific to Jupiter Bay) as well as more in depth information on specific relevant topics than what's available on the Association's website.  It can serve as a reference tool enabling association members to find important information regarding condominium living and Jupiter Bay specifically.
This website is a work in progress that was originally developed during the 2014 Jupiter Bay Board of Director's election.  Since the election it has morphed into a place for posting miscellaneous information that I either stumble onto or is the result of my research into specific subjects germane to my Board Director experiences or my industry certification as a licensed community association manager.
This website was designed and is being maintained by a Jupiter Bay owner, who was a board director, serving as Treasurer and President, former Property Manager, and licensed Community Association Manager.  It is not an official website of the Jupiter Bay Condominium Association, and information posted here is based solely on the knowledge and opinion of the author.
Also, let me state that I am neither qualified nor licensed to practice law or render legal opinions.  Where necessary to enhance understanding of a particular subject area, I may list relevant Florida statutes, condominium document references or quoted legal information.   But in most cases I will not express an opinion or take a particular position.  I may try to clarify what's being said, but usually the factual direct quotes speak for themselves.
Please don't hesitate to provide your feedback, comments and ideas using the "Contact Us" page of this website.
| | |
| --- | --- |
| According to the Center for Democracy & Technology "The Internet and new technologies give individuals the ability to publish and receive information, participate in political processes and share knowledge.  User choice and control, which allow individuals to decide what to say, publish and access online, are essential part of protecting free expression rights." | |
Please see my Blog, About-us page and Location Map below:
This Website contains 28 major Information-Sharing Pages that can be accessed by clicking on the link below or via the Navigation Bar at the top of this screen.
Important Condo Owner Communications
| | |
| --- | --- |
| | Publishes Florida, Palm Beach County & local news |
| | Publishes some late-breaking news from around the Jupiter Bay Community. |
| | Restaurant, entertainment and educational venues from around the Jupiter area. |
| | Defines the roles and functions of Board Directors, CAMs and the various Officer positions. |
| | Important homeowner information on Board Director positions and Director responsibilities, standards, and requirements. |
| | Provides information regarding Board member ethics and the rights and responsibilities of Board member and condominium owners.  Shows how actions can be taken against board members, including recall. |
| | Provides information on condominium governing documents and Florida Statutes. |
| | Provides information on the Association's rules/regulations and proposed changes to resolve issues. |
| | Presents information on condominium association board member elections and voting concepts and procedures. |
| | Explains the Florida statutes, condominium documents and procedures dealing with the alteration of individual units and common areas. |
| | Provides Board members and homeowners information for addressing and resolving disputes within the community. |
| | Discusses the importance of complying with Florida Condominium Statutes and consequences for non-compliance. |
| | Provides information regarding Florida hurricanes and lists the Board's expanded powers during government-declared emergencies. |
| | Describes financial issues and concepts applicable to multicondominium associations. |
| | Describes the process and steps for preparing the Association's Annual Budget. |
| | Presents the need for all Jupiter Bay Homeowners to have property insurance coverage for their unit. |
| | Provides procedures for communicating with delinquent owners and collecting amounts due. |
| | Describes the tools, techniques and skill-set for managing a large multicondominium complex. |
| | Discusses Board member interaction with the community, including Board meetings, emails, newsletters and the Jupiter Bay website. |
| | Describes committee types, authority, responsibilities, and procedures. |
| | Describes the process and steps for preparing a Strategic Plan. |
| | Describes the many facets of Condominium Living. |
| | Defines property ownership rights within a condominium association. |
| | Provides information on the leasing of Jupiter Bay condominiums by owners and agents. |
| | Establishing Florida residency provides significant advantages for many Jupiter Bay Homeowners. |
| | Scenic pictures from around the Jupiter area. |
| | Provides the opportunity for your input regarding this website. |
| | Provides Condominium Association forms for use by Board Members, CAMs & Homeowners. |
| | Helps you research and obtain additional useful information. |