Disputes & Resolution
Condominium living is often accompanied by disputes between the association and owners.
Conflict Resolution Alternatives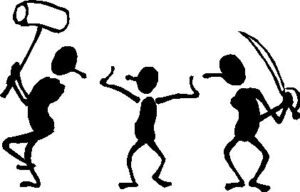 There are at least four ways of resolving issues between associations and owners:
Communications/Meetings – The Board of Directors could schedule meetings with alleged violators with the intent of discussing their differing positions and reaching an equitable resolution.  This is the least expensive alternative and often the best approach to resolving conflicts.
Fining – Florida Statutes allow Associations to "levy reasonable fines for the failure of the owner of the unit or its occupant, licensee, or invitee to comply with any provision of the declaration, the Association bylaws, or reasonable rules of the Association."  To enforce its rules, an association needs to establish a fining committee comprised of non-board members who must concur with the proposed fine.  The fine can be up to $1,000, based on $100 fine per day of a continuing violation.
Mediation – Condominium statutes provide alternative dispute resolution approaches, including mediation (see below).  Mediation is a process whereby a neutral third person (a mediator) acts to encourage and facilitate the resolution of a dispute between two or more parties. It is an informal, non-adversarial and typically shared-cost process with the objective of helping the disputing parties reach a mutually acceptable and voluntary agreement.
Lawsuits - As a last resort an Association or owner can file a complaint in a court of law.
The following information, derived from Florida Statutes, provides additional information on dispute resolution methods.  (See also the "Resolving Internal Disputes" section of Part III of the Condominium Living page of this website.
Alternative Dispute Resolution
The Florida Legislature has determined the need for "flexible means of alternative dispute resolution that directs disputes to the most efficient means of resolution".  According to the Legislature, "alternative dispute resolution has been making progress in reducing court dockets and trials and in offering a more efficient, cost-effective option to court litigation."  They believe that "The high cost and significant delay of circuit court litigation faced by unit owners in the state can be alleviated by requiring non-binding arbitration and mediation in appropriate cases, thereby reducing delay and attorney's fees while preserving the right of either party to have its case heard by a jury, if applicable, in a court of law."
According to Florida Statute 718.1255(4 )(a), when condominium unit owners disagree with their condominium association, the resulting disputes "must first be submitted to non-binding arbitration before a lawsuit may be filed".  That does not mean that all issues between unit owners and associations must first go through arbitration.  Only "disputes" require arbitration before a lawsuit may be filed.
According to Florida Statute 718.1255(1), the term "dispute", as used within this section of the statutes, means any disagreement between two or more parties that involves:
(a) The authority of the board of directors, under this chapter of FL statutes or an association document to:
Require any owner to take any action, or not to take any action, involving that owner's unit or the appurtenances thereto.
Alter or add to a common area or element.
(b) The failure of a governing body, when required by this chapter or an association document, to:
Properly conduct elections.
Give adequate notice of meetings or other actions.
Properly conduct meetings.
Allow inspection of books and records.
According to the same statute, a "dispute" is NOT a disagreement involving:
Title to units and common areas;
Warranties;
Fees or assessments;
Collection of assessments;
Eviction of tenants;
Fiduciary duties; or
Claims for damages to a unit from the association's failure to maintain common areas. These claims are not required to go through non-binding arbitration before a lawsuit may be filed.
Mandatory Nonbinding Arbitration & Mediation of Disputes
As stated earlier, prior to the institution of court litigation, a party to a dispute must petition the division for nonbinding arbitration. The Division of Florida Condominiums, Timeshares, and Mobile Homes employs full-time attorneys to act as arbitrators to conduct the arbitration hearings.
The petition, accompanied by a filing fee in the amount of $50, must recite, and have attached thereto, supporting proof that the petitioner gave the respondents:
Advance written notice of the specific nature of the dispute;
A demand for relief, and a reasonable opportunity to comply or to provide the relief; and
Notice of the intention to file an arbitration petition or other legal action in the absence of a resolution of the dispute.
Once the petition is received and reviewed by the Division, and the Division determines that a dispute exists and the petition meets requirements:
A copy of the petition is served upon all respondents.
Before or after the filing of the respondents' answer to the petition, any party may request that the arbitrator refer the case to mediation.
If all parties agree, the dispute must be referred to mediation.  Notwithstanding a lack of agreement by all parties, the arbitrator may refer a dispute to mediation at any time.
Upon referral of a case to mediation, the parties must select a mutually acceptable mediator.
Mediation proceedings are conducted in accordance with the Florida Rules of Civil Procedure.
If the mediator declares an impasse after a mediation conference has been held, the arbitration proceeding terminates, unless all parties agree in writing to continue the arbitration proceeding, in which case the arbitrator's decision shall be binding or nonbinding, as agreed upon by the parties.
The arbitrator decision is presented to the parties in writing.
The party who files a complaint for a trial de novo (new trial) shall be assessed the other party's arbitration costs, court costs, and other reasonable costs, including attorney's fees, investigation expenses, and expenses for expert or other testimony or evidence incurred after the arbitration hearing if the judgment upon the trial de novo is not more favorable than the arbitration decision. If the judgment is more favorable, the party who filed a complaint for trial de novo shall be awarded reasonable court costs and attorney's fees.
Any party to an arbitration proceeding may enforce an arbitration award by filing a petition in a court of competent jurisdiction in which the condominium is located.
Lawsuits
A Lawsuit is a civil action brought in a court of law in which a plaintiff, a party who claims to have incurred loss as a result of a defendant's actions, demands a legal or equitable remedy. The defendant is required to respond to the plaintiff's complaint.  If the plaintiff is successful, judgement is in the plaintiff's favor, and a variety of court orders may be issued to enforce a right, award damages, or impose a temporary or permanent injunction to prevent an act or compel an act.  A declaratory judgment may be issued to prevent future legal disputes. The conduct of a lawsuit is called litigation.
Lawsuits resulting from legal disputes between condominium associations and owners are the most expensive way to achieve justice.  They can continue for months, since attorneys have little incentive to bring them to completion, and they generally result in costly fees.  Attorney charges could include time and materials for:
Conversing with the association and researching the complaint,
Preparing and filing the complaint court documents,
Responding to the court and attending hearings,
Responding to follow-up board member phone calls,
Conducting depositions,
Covering court costs, and
Paralegal & clerical support.
Associations and owners should consider lawsuits as a last resort for dispute resolution.