Condominiums in Florida are created pursuant to Florida Statute 718, and they are governed by the Association's Condominium Documents.
Specific information is provided below for amendments regarding: Association Websites, Estoppel Certificates, and Fire Sprinkler requirements. Recent changes to Emotional Support Animal laws and Assessment Notices & Collections changes are covered on the "News" page of this website.
Condominium Documents
Declaration of Condominium

 is the master deed that's recorded in the county where the condominium is located and creates the condominium. It defines the portions of the development that individual owners are responsible for and those managed by the Association.  It creates the framework for operating/managing the Association and defines the rights, restrictions and responsibilities of each owner in the Association. It provides legal descriptions and identifies units and common expense percentages.
Articles of 

Incorporation

 (corporate charter) bring the Condominium Association (i.e., the corporation) into existence and describe its structure.
Plot Plan & Survey

 define what's included in the Association and sets boundaries for condominium units, land and common areas/structures.
Bylaws

 define how the Association operates.
Rules and Regulations

 are supplemental restrictions authorized by the bylaws and promulgated by the board. They regulate day-to-day use of the condominium units and common areas.

Hierarchy of Documents
Here's the order of document precedence. FL Statutes overrule all other documents unless they specifically say "unless defined in the association's Declaration".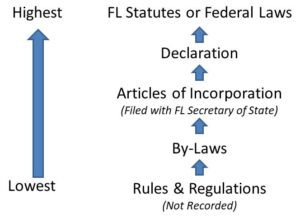 Changing the Governing Documents
75% To amend the Declaration of Condominium.
Statutory default is 2/3 of units.
May not materially change unit configuration, size, appurtenances, or percentage share of the common elements/expenses.
80% To amend the Association's Bylaws.
Statutory default is 2/3 of units.
Proposals to amend must contain the full text of the bylaws to be amended with new words underlined and deleted words lined through with hyphens.
80% To materially alter the Association's Common Elements.
Statutory default is 75% of units.
Majority of Board Members To amend the Rules & Regulations.
Florida Administrative Code
Chapters 61B-15 through 61B-24

-- Forms/definitions, filings, documents, developer obligations, penalties, resolution guidelines, financial, the Association, conversion & mediation.
Chapter 61B-45

-- Non-binding arbitration rules.
Chapter 61B-50

-- Recall arbitration rules.
Proposed Jupiter Bay Bylaw Changes
There are two Bylaw changes that should be considered.  They would align the Association with Florida Statute default values for Bylaw approvals and Annual financial reporting deadlines. The proposed changes below would apply to the common set of association bylaws and would require approval by 288 (80%) affirmative votes of the entire membership.
Bylaw Amendment Approvals – Currently, the Association's Bylaws can only be amended with an 80% affirmative member vote. It is unusual to have bylaws that are this difficult to change. I propose that we change our Bylaws approval requirements to conform to the Florida statute default value, which requires approval of "not less than two thirds of the voting interests."
Annual Audited Financial Report Due Date – I don't believe that our Association has ever had its Annual Audited Financial Report completed and mailed to owners within 60 days following the end of the fiscal year, yet this is required in section 9.13 of our Bylaws. I propose that we change this to the Florida statute language which requires a contract for the preparation and completion of the report within 90 days and mailing not later than 120 days after the end of the fiscal year.
Proposed Jupiter Bay Declaration & Bylaw Text Changes
The document available via the link below shows the specific changes to the Association's Declaration and Bylaws text required to enact the proposed amendments shown above.  The full text of the current language is shown with underlining of inserted words and strikethrough of deleted words. (Note that this document does not include changes for the latest 10.4 Declaration amendments.)
Florida Statutes Stipulate Website Requirements
Per FL Statute 718.111(12)(g):
1. By January 1, 2019, an association managing a condominium with 150 or more units shall post digital copies of the documents specified in subparagraph 2 (see below) on its website.
a. The association's website must be an independent website wholly owned and operated by the association or a website operated by a third-party provider dedicated to the association's activities and documents.
b. The association's website must be accessible through the Internet and must contain sections accessible only to unit owners and employees of the association.
c. Upon a unit owner's written request, the association must provide the unit owner with a username and password for accessing the protected sections of the association's website.
2. A current copy of the following documents must be posted in digital format on the association's website:
a. The recorded declaration of condominium of each condominium operated by the association and each amendment to each declaration.
b. The recorded bylaws of the association and each amendment to the bylaws.
c. The articles of incorporation of the association filed with the Department of State.
d. The rules of the association.
e. A list of all executed contracts or documents to which the association or the unit owners have an obligation or responsibility and a list of bids received by the association within the past year. Summaries or copies of bids for materials, equipment, or services which exceed $500 must be maintained on the website for 1 year.
f. The annual budget and any proposed budget to be considered at the Annual Meeting.
g. The annual audited financial statements and any monthly income or expense statement to be considered at a meeting.
h. The certification of each director.
i. All contracts or transactions between the association and any director, officer, corporation, firm, or unaffiliated association or any other entity in which an association director is also a director or officer and financially interested.
j. Any contract or document regarding a conflict of interest or possible conflict of interest.
k. The notice of any Unit Owner Meeting and the agenda for the meeting no later than 14 days before the meeting. The notice must be posted on the front page of the website or on a separate page of the website labeled "Notices" and linked from the front page. The association must also post on its website any document to be considered and voted on by the owners during the meeting or any document listed on the agenda at least 7 days before the meeting.
l. Notice of any Board Meeting, the agenda, and any other document required for the meeting, which must be posted no later than the date required for notice.
m. Designation of the person or entity, with a street or email address, for receipt of a request for an estoppel certificate.
3. The association shall ensure that the information and records which are not allowed to be accessible to unit owners, are not posted on the association's website. Notwithstanding the foregoing, the association or its agent is not liable for disclosing information that is protected or restricted pursuant to this paragraph unless such disclosure was made with a knowing or intentional disregard of the protected or restricted nature of such information.
4. The failure of the association to post information required under subparagraph 2 is not in and of itself sufficient to invalidate any action or decision of the association's board or its committees.
Florida Statutes Amend Estoppel Certificate Requirements
Senate Bill 398 enacted into law in 2017 significantly amended Florida statute 718.116, effective July 1, 2017, regarding Estoppel Certificates:
Associations have 10 business days (previously 15 days) to issue an estoppel certificate after receiving a written or electronic request. If not delivered within 10 business days, a fee may not be charged for preparing and delivering the certificate.
Associations must designate on their website a person or entity with a street or e-mail address for receipt of an estoppel request.
Estoppel certificates must be provided by hand delivery, regular mail, or e-mail to the requestor on the date of issuance of the certificate.
Estoppel certificates must be completed by a board member, authorized agent or representative of the association, or the management company.
Estoppel certificates that are hand delivered or sent by electronic mail have a 30-day effective period; estoppel certificates sent by regular mail have a 35-day effective period.
Associations can amend estoppel certificates within the 30- or 35-day period and, upon issuance of an amended estoppel certificate, a new 30- or 35-day effective period starts. Associations may not charge a fee for amended estoppel certificates.
Associations waive the right to collect any money owed in excess of the amount specified in an estoppel certificate from any person who in good faith relies upon the estoppel certificate.
Associations may not charge more than $250 for the preparation and delivery of an estoppel certificate if, on the date of issuance, no delinquent amounts are owed to the Association. If delinquent amounts are owed, an additional fee of up to $150 may be charged. An association is not prohibited from requiring the fee for an estoppel certificate to be paid prior to the closing of the real estate transaction.
An expedited fee of up to $100 may be charged if an estoppel requestor asks for an estoppel certificate to be delivered within 3 business days.
If a title agent prepays an estoppel fee and the closing does not occur, the association must refund the estoppel fee to the title agent upon written request made within 30 days after the planned closing date and reasonable documentation that the closing did not occur. The association has 30 days after receipt of the refund request to reimburse the title agent.  The right to reimbursement may not be waived or modified by any agreement.
Every 5 years, the fees specified above will be adjusted by the Department of Business and Professional Regulation and posted on its website.
The amendments also outline the information that must be included on estoppel certificates. This information is provided via this website's FL Statute 718 Legislative Changes 2017 Link.
Florida Statutes (Condos & HOAs)
Chapter 718 – Condominiums (The Condominium Act) – Members own their unit and an undivided share in the common elements.
Part I –  General Provisions
Part II –  Rights & Obligations of Developers
Part III –  Rights & Obligations of Association
Part IV –  Special Types of Condominiums (leasehold estate, conversion & adding phases)
Part V –  Establishes regulation by the Division of FL Condominiums, Timeshares & Mobile Homes
Parts VI & VII – Addresses developer rights, responsibilities and regulatory oversight in special circumstances.
Chapter 719 – Co-Ops – Association owns all property (everything) and members have an ownership interest (i.e. a lease to use unit/property.
Chapter 720 – Homeowners Associations – Members own their homes and the association owns common property.
Chapter 721 – Timeshares – Members own a portion of their unit (i.e. for a time period less than a full year).
Other Applicable Florida Statutes
| | |
| --- | --- |
| | — Public Records (Open inspection of records at all reasonable times) |
| | — Administrative Procedure Act (Sets standards for state agencies & their authorities) |
| | — Elevator Safety |
| | — Pest Control |
| | — Private Security Services (ss. 493.6301 - 493.6305) |
| | — Regulation of Resort Condominiums (Rented to public more than 3 times per year for periods of less than a month.) |
| | — Operation & Control of Public Pools (Pool operation requires valid permit from Department, which is renewed annually.) |
| | — Vehicle Towing |
| | — Fair Housing Act (Covers race, color, religion, gender, national origin, age, handicapped [including AIDS/HIV], or marital/familial status) |
Proposed Jupiter Bay Declaration Changes
The Association's eight Declarations have not changed appreciably since 2003, when the West C building approved changes to its Declaration to add rental restrictions. Most recently, the addition of a bocce ball court caused a minor update to Article 3, Section 3.6(c) of all eight Declarations, and relaxed vehicle restrictions caused updates to Section 10.4 of the Declarations. There are several additional changes that I believe need to be made to the Association's Declarations as well as consideration for a few other changes that have been proposed by owners.
The first five proposed changes below would apply to all eight declarations and would require approval by 270 (75%) affirmative votes of the entire membership. The last two changes, rental terms and transfer fees, would apply to specific associations, requiring 75% affirmative vote of owners of the particular Association (102 votes for JB East and 24 votes for all others).
1. Bocce Ball Court – Owners have already approved a change to all eight declarations to include a bocce ball court in the Commonly Used Facilities section of the declarations. This change also needs to be made in the Recreational Facilities section, and both changes need to be recorded in Palm Beach County.
2. Recreation Facility – Article 5 of the declarations describes two recreation facilities:
Restaurant, swimming pool and tennis club and
Second pool, cabana, bath, and 2 tennis courts.
This article should be bifurcated into three sections: Restaurant & Tennis Club (5.1), West Recreation Facility (5.2) and East Recreation Facility (5.3). The West swimming pool should be reclassified as a common element with the West pool cabana, restroom and spa included; the Tennis Club's number of courts should be updated to seven (7); and the sentence describing unit owner membership fees for joining the Restaurant & Tennis Club should be deleted.
3. Consent to Action – Although the "Consent to Action" process appears to be an acceptable means of amending an association's governing documents according to the Florida Not-for-profit Corporations Statute, it is not included in the Amendment Resolution section of our declarations. I believe that it needs to be explicitly included.
4. Defense of Foreclosure – Because the Association's declarations had no provision for us to charge attorney fees to the owner of a unit in foreclosure who was current in her quarterly assessments, we were ordered (via mediation) to pay the owner $20,287 in legal fees and $10,750 in settlement fees. Had this provision been contained in article 7 (Assessments) of our declarations, the Association would have saved considerable money. This provision needs to be added to all eight declarations.
5. Pet Control – The section of our declarations containing use restrictions regarding pets (Section 10.4) needs to limit the number of domestic household pets allowed and to exclude the weight limit restriction for service and emotional support animals.
6. Rental Terms – Seven of the eight association declarations, the exception being West C, place no restrictions on rentals. This leads to a more transient population and increases the Association's insurance costs. I propose that we give the seven other associations opportunity to vote on a set of restrictions like those in the West C Declaration.
7. Transfer Fees – The West C Association charges a $100 transfer fee for the sale of a unit and a $75 processing fee for the lease of a unit. The Association expends considerable time and resources processing leases, issuing parking passes, and responding to tenant questions/issues. Consequently, many or most owners support this fee. However, there is the concern that a transfer fee implies the Association's ability to approve or deny lease applications based on rule violations, owner delinquencies, background checks, etc. Regardless, I believe that it is important that all declarations require this fee to offset costs and provide additional income from sources other than owner assessments. I propose that we utilize language similar to the West C declaration for this amendment.
Condominium Statutes Legislative Changes
Time to Smother Florida's Fire Sprinkler Scare
Article from the Palm Beach Post (August 14, 2016)
By: Ryan Poliakoff The Condo Consultant
Over the past month, significant confusion has developed concerning whether low- and mid-rise condominium buildings (those not greater than 75 feet tall) must comply with Florida laws that require high-rise condominiums without certain types of fire safety systems to either retrofit their properties to include these systems, or opt out by a unit-owner vote.
The Florida Fire Prevention Code provides that all high-rise buildings, defined as those greater than 75 feet tall, shall be protected by an approved, supervised automatic fire sprinkler system, to be installed not later than Dec. 31, 2019. There are exceptions for certain buildings, including those that have an approved engineered life safety system (such as a partial sprinkler system along with compartmentalization, smoke detection and control, and other similar systems).
The Condominium Act has, for many years, provided that the members of an association may, by majority vote, opt out of this requirement. The statute (Section 718.112) says that, by "Dec. 31, 2016, a residential condominium association that is not in compliance with the requirements for a fire sprinkler system and has not voted to forgo retrofitting of such a system" must become compliant by the 2019 deadline. That seems simple enough. (Note that in 2019 the FL legislature extended the deadline to January 1, 2024)
The problem is that, at one point, the statute expressly referred to high-rise condominiums, and that language was removed. The Florida Department of Business and Professional Regulation has recently taken the position that the removal of the "high rise" language effectively applied the Fire Prevention Code sprinkler requirements to all condominiums, regardless of height. This has caused a panic among low-rise condominium properties, which had never considered they might be obligated to retrofit their properties. A minority of association attorneys have agreed with the DBPR, and are advising their low-rise clients that they should conduct opt-out votes so they are not subject to the sprinkler requirements.
The Florida Fire Sprinkler Association Inc. and the American Fire Sprinkler Association's Florida chapter have recently released a statement that strongly disagrees with the DBPR's interpretation of the law. They point out that no state sprinkler retrofit requirement for mid-and low-rise condominiums exists, anywhere. The only state code requirement, by its own definition, relates exclusively to high-rise properties.
No other state law or statute, including the Condo Act, contains any sprinkler retrofit requirement. The Condo Act simply says that — notwithstanding any code, statute, ordinance, administrative rule or regulation — an association is not obligated to retrofit the common elements with a fire sprinkler system, if the members have voted to forgo that requirement. Importantly, it does not say the converse — that, absent an opt-out vote, a condominium must install a sprinkler system. That requirement is only found in the Fire Prevention Code, and the Fire Prevention Code only applies to high-rise buildings. Further, it makes sense that the high-rise language was removed from the Act. The opt-out provision in the Condo Act can be used not only to opt out of state laws, but also to opt out of local codes and ordinances.
While the state law has no mid- or low-rise sprinkler requirement, it is conceivable that a local code somewhere in Florida does require low-rise buildings to install full sprinkler systems — and if so, the statutory procedure can arguably be used to opt out of that requirement, as well. I am not aware of any such codes, but I do suggest that even low-rise condominiums check with their local fire marshal to ensure that no such requirement exists. Absent that, however, and accepting you can never predict how any individual judge interprets a law, it seems highly unlikely the language of the Condominium Act, by itself, could be interpreted to require low- or mid-rise condominiums to install sprinklers or fire safety systems.
Keep in mind, the position of the FFSA and the AFSA is against the interest of all fire sprinkler installers. Their members could make millions by supporting the DBPR interpretation of the Condominium Act. They are, to their credit, instead stating the most logical conclusion — that you can't create a legal requirement that doesn't exist by removing language from a statute that didn't control the issue in the first place.
Ryan Poliakoff is a co-author of "New Neighborhoods - The Consumer's Guide to Condominium, Co-Op and HOA Living" and a partner at Backer Aboud Poliakoff & Foelster, LLP.