Here's some important Florida, Palm Beach County and Jupiter information for our Homeowners.
Building Safety - FL Senate Bill 4-D
On May 26, 2022, Governor DeSantis signed into law Senate Bill 4-D, which passed during a 5-day special legislative session. This Bill is a response to the collapse last year of Champlain Towers South in Surfside FL and modifies Florida Statute Chapter 718.
The Bill establishes a statewide structural inspection program, requiring Condominium Associations to conduct Milestone Structural Inspections of their buildings, increases the rights of unit owners and prospective unit owners to access information regarding the condition of buildings, and revises requirements for associations to fund reserves for the continued maintenance and repair of their buildings.
Following is a summary of condominium association compliance requirements:
Building Safety Inspections
Condominium association buildings that are three or more stories in height are required to have a "milestone inspection" of the buildings' structural integrity by an architect or engineer when a building reaches:

30 years of age and every 10 years thereafter, or
25 years of age and every 10 years thereafter if the building is located within three miles of a coastline.

(Jupiter Bay falls within this requirement.)
If a milestone inspection is required and the building's certificate of occupancy was issued on or before July 1, 1992, the building's initial milestone inspection is to be performed before December 31, 2024.

(Jupiter Bay's buildings were built in the mid and late 80's, and all meet this requirement.)
Local enforcement agencies are required to notify associations of the need to perform a milestone inspection:

A phase one milestone inspection by a licensed architect or engineer must commence within 180 days after an association receives a written notice from the agency, and
A phase two inspection is required if there is evidence of "substantial structural deterioration".
Contents of the milestone inspection report, adhering to minimum requirements, are to be provided to local building officials with inspector-prepared summaries posted on association property and the association's website, and provided to all unit owners by mail or email (if owner consents).
The local enforcement agency is to review and determine if a building is safe for human occupancy if an association fails to submit proof that repairs for substantial deterioration have been scheduled or begun within at least 365 days after the local enforcement agency receives a phase two inspection report.
Failure by an officer or director of an association to have a milestone inspection performed is a breach of the officer's and director's fiduciary relationship to the unit owners. Also, the association's CAM or CAM firm contract must require compliance with these requirements.
Unit owners have the right to inspect and copy, as official records, the milestone inspection report and all other inspection reports relating to structural or life safety, and renters have the right to inspect the milestone inspection reports.
Associations are required to report to the FL Division of Condominiums, Timeshare, and Mobile Homes the number of buildings that are three stories or higher in height and the total number of units in such buildings on or before January 1, 2023.

(Jupiter Bay has three 5-story buildings (containing 120 units) and six 4-story buildings (with 192 units)).
Unit owners are required to give prospective buyers of a unit a copy of the inspector-prepared summary of the milestone inspection report.
Funding of Reserves:
Condominium associations are required to complete a structural integrity reserve study every 10 years for each building in an association that is three stories or higher in height.
Associations existing on or before July 1, 2022, are to have a structural integrity reserve study completed by December 31, 2024.

(Jupiter Bay will need to schedule this and incorporate results in our 2025 budget or sooner.)
"Structural integrity reserve study" is defined as a study of the reserve funds required for future major repairs and replacement of the common elements based on a visual inspection of the common elements.
The study is to:

Include a visual inspection by a licensed engineer or architect,
State the estimated remaining useful life, and
Provide the estimated replacement cost of the roof, load bearing walls or other primary structural members, floor, foundation, fireproofing and fire protection systems, plumbing, and any item with a deferred maintenance or replacement cost that exceeds $10,000.
Besides visual inspections, any qualified person or entity may perform the other components of a structural integrity reserve study.
Reserves must be fully funded, and association members are not permitted to vote to waive or partially fund the reserves.
The Structural integrity reserve study needs to be kept in the official records for 15 years from the date of the report and posted on the association's website.
It is a breach of a board member or officer's fiduciary duty if an association fails to complete a structural integrity reserve study. Furthermore, it could impact officer D&O insurance and property insurance premiums.
RING Doorbells -- Material Alterations?
Condo owners who install RING doorbells may be in violation of the Material Alteration provision of Florida's statutes and their association's declaration. FL Statute 718.113 (2)(a) says that "Except as otherwise provided in this section, there shall be no material alteration or substantial additions to the common elements or to real property, which is association property, except in a manner provided in the declaration as originally recorded or as amended under the procedures provided therein."
Paragraph 6.1(c) of the Jupiter Bay Condo Association's Declaration says that "neither a unit owner nor the Association shall make or cause to be made any change or alteration of any portion of the exterior of the unit building. This prohibition includes painting or otherwise decorating or changing the appearance of any portion of the exterior of the unit building or any balcony or porch or any addition to the building or any part thereof, which could be viewed from any location outside the building. Any change, alteration, addition or deletion described above may be made only after obtaining in writing approval of not less than 80% of the owners of all of the condominium units governed by the Association at a meeting called for that purpose."
While condo owners are increasingly utilizing modern technology, such as RING doorbells, to monitor their doorways, questions are arising regarding use of this technology within a condominium association. RING, and other similar products, are doorbells that let owners see who is at their front door, by simply glancing at their cell phone.  They even let owners speak to and hear the person who is at their door, even when they are not home.  In fact, they can be viewed from anywhere in the world.
Based on a recent arbitrator ruling, these condo owners may be in for a surprise. In Persi v. Playa Del Mar Association, Case No. 19-02-7292, March 16, 2020, Arbitrator Keith Hope held that the owner's RING doorbell was a material alteration, and the association had the right to remove it.  In his ruling, the arbitrator defined material alteration as follows:
"As applied to buildings, the term material alteration or addition means to palpably or perceptively vary or change the form, shape, elements, or specifications of a building from its original design or plan, or existing conditions, in such a manner as to appreciably affect or influence its function, use or appearance."
Applying this test, the Arbitrator held that the owner's installation of the RING video doorbell was a material change to the appearance of the common property door and required installation of electrical wiring within the common property walls. (Note that not all RING doorbells require wiring, some can be battery powered.)
Moreover, it is undisputed that the RING video doorbell contains a security camera that captures both audio and video of persons and activities within its field of view. Because of this, installation of a security camera on or in a condominium's common property is deemed a material alteration according to Dellagrotta v. West Coast Vista Association, Inc., Arb. Case No. 2013-02-7351, Summary Final Order (October 4, 2013).
Jupiter Bans Overnight Camper Parking Along A1A
According to Jupiter Police Captain Bill Allen, 30 to 40 RVs and camper vans have parked along the 2.5-mile A1A stretch from Marcinski Road to Carlin Park during peak tourist season. The problem is being exacerbated by social media networks that highlight the advantages of parking overnight this close to the beach with shower access. Jupiter historically has not restricted overnight parking along A1A.
Due the the worsening problem, Town Council members approved on September 23, 2021 a law prohibiting overnight camper parking. The ordinance created a $100 fine for anyone parking an RV or camper van along A1A or in beach parking lots between midnight and 5:00 a.m.
Police officers will immediately begin patrolling the area and issuing warnings to violators. Those who ignore the warnings will be issued a ticket for every night that they park illegally.
Assessment Notices & Collections Changes
Florida Senate Bill 56, effective July 1, 2021, provides additional notice requirements for condominium associations when changing assessment methods or collecting assessments.
For community associations that send out invoices for assessments or statements of the account to unit owners, the bill revises how an association may deliver and change its method of delivery:
Requires any invoice for assessments or statement of account to be sent by first-class mail or electronic transmission to the owner's email address maintained in the association's official records.
Requires the association, before changing the method of delivery for any invoice for assessment or statement of account, to deliver the written notice of such change to the owner.
Requires the notice to be sent by first-class mail and delivered to the owner's address maintained in the association's official records at least 30 days before the delivery method is changed.
Requires the owner to affirmatively acknowledge his or her understanding that the association has changed its method of delivering the invoice for assessment or statement of account to delivery by electronic transmission before the association may change its method of delivery.
Requires the owner's affirmative acknowledgment to be maintained by the association as an official record, but such record is not accessible to other owners as an official record.
The bill provides that community associations may not require the payment of attorney fees related to past due assessments without first delivering a written notice of late assessment to the unit or parcel owners. The written notice must specify the amount owed and allow the owner to pay past due assessments without paying additional attorney fees. The bill provides the form of this written notice. The bill authorizes the use of an affidavit as the method for associations to provide a rebuttable presumption that the association complied with these notice and delivery requirements for the notice of late assessment.
The bill also increases the period a condominium unit owner has to pay a monetary obligation after receiving an association's Notice of Intent to Record a Claim of Lien. This period is increased by the bill from 30 days to 45 days.
Florida Senate Bill #630
Senate bills 56 and 630, effective July 1, 2021, introduced major legislative changes to Florida condominium law. Senate Bill 56, Assessment Notices & Collections Changes, is reviewed in the above article. Following are the most significant and relevant changes from Florida Senate Bill 630:
A condominium unit owner's insurance policy may not provide subrogation rights against the association if the association's insurance policy does not provide a subrogation right against the unit owners.
The period an association must maintain official records of bids for work, equipment, or services to be performed was reduced from 7 years to 1 year after receipt of the bid.
A renter only has the right to inspect and copy the Declaration of Condominium, the Bylaws, and Rules.
The association may not require a unit owner to demonstrate any purpose or state any reason for inspecting the official records of the association.
Associations may now provide certain specified documents through mobile device applications, rather than posting them to the association's website.
Only a Board member's service that occurs on or after July 1, 2018, may be used when calculating the 8 consecutive years term limit.
Written notice of a member (owner) meeting, other than an annual meeting, must include an agenda; be mailed, hand delivered, or electronically transmitted to each unit owner; and be posted on the association property within the timeframe specified in the Bylaws or at least 14 days before the meeting.
The maximum permissible transfer fee was increased from $100 to $150 and will be adjusted every 5 years based on the Consumer Price Index.
Unit owners may now challenge a recall rejected by the Board of Directors in a court of law rather than pursue arbitration through the Division.
A board member's disclosed conflicts of interest can be approved by the Board or the unit owners.
A unit owner is permitted to install a natural gas fuel station, subject to the same requirements as a unit owner installing an electric vehicle charging station. The unit owner is responsible for complying with all applicable federal, state, or local laws or regulations and all related costs.
The association may not prohibit an electric vehicle charging station and a natural gas fuel station from being installed on limited common elements or "an exclusively designated parking area."
The Board may make available, install, or operate an electric vehicle charging station or a natural gas fuel station upon the association's common elements and establish usage charges. The installation is not considered a material alteration.
In lieu of initiating non-binding arbitration, a party may submit a dispute to the pre-suit mediation process and then file in a court of law. However, election and recall disputes are not eligible for pre-suit mediation.
The following changes to the Board's emergency powers were made:
Extends a condominium association's Board of Directors' emergency authority to apply its response to injury and to an anticipated declared state of emergency.
Authorizes the Board to conduct Board meetings, committee meetings, membership meetings, and elections by telephone, real-time videoconferencing, or similar real-time electronic or video communication.
Authorizes the association to give meeting notices by electronic transmission.
Clarifies the term "emergency" to mean "any occurrence, or threat thereof, whether natural, technological, or manmade, in war or in peace, which results or may result in substantial injury or harm to the population or substantial damage to or loss of property."
Authorizes condominium associations to consult with public health officials when determining whether any portions of the condominium property are unavailable for entry or occupancy.
Provides that during a declared state of emergency, condominium associations may not prohibit access to the common elements and limited common elements for the purposes of ingress to and egress from the unit. In addition, the association may not prohibit access that is necessary for the sale, lease, or other transfer of title to a unit.
The due date for a fine is now 5 days after notice to the unit owner of the committee's approval of the fine.
The law clarifies that a multi-condominium association may adopt a consolidated or combined Declaration for the condominiums without being required to merge the condominiums into a single condominium.
Senate Bill #630 detail is provided on the "Governance" page of this website.
Special Assessments
According to Florida Statute 718.111(4), "The association has the power to make and collect assessments and to lease, maintain, repair, and replace the common elements or association property."
Special assessments provide a means for the Association's Board of Directors to obtain, from its members, money for unplanned, unexpected and unbudgeted expenses. Although normally used for covering capital replacement costs (i.e., for reserve items), special assessments can also be used for replenishing unfunded operating expenses. However, they should not be used for covering regular routine expenses that exceed budgeted values. (These are taken into consideration in preparing the next year's budget.)
Unplanned capital expense occurs when the Reserve Schedule's estimated "years-of life" is too high or "capital replacement costs" are too low to cover actual expenditures. Examples include 1) replacing lines and pumps that supply irrigation water, 2) replacing or substantially repairing a damaged lake bridge, or 3) major rebuild of swimming pool restrooms/pumphouse.
Unplanned operating expense occurs when a budgeted line-item is substantially exceeded due to unforeseen circumstances. Examples include 1) unplanned major litigation, 2) major vendor repricing of equipment and/or services, 3) midyear increases in insurance costs, or 4) breakdown of equipment requiring significant repair work.
Special assessments must be approved by a majority of the Association's Board of Directors at a Board Meeting requiring 14-days advance notice, posted on Association property in the places designated for the posting of such notices. In addition, Florida statute 718.112(21)(c)1. requires that "Notice of any meeting in which regular or special assessments against unit owners are to be considered must specifically state that assessments will be considered and provide the estimated cost and description of the purposes for such assessments."
Statute 718.116(10) says that "The specific purpose or purposes of any special assessment shall be set forth in a written notice of such assessment sent or delivered to each unit owner. The funds collected pursuant to a special assessment shall be used only for the specific purpose or purposes set forth in such notice." The special assessment notice must list, describe and estimate the cost of each item included in the special assessment. The sum of the included items must equal the total amount of the special assessment. Then, the special assessment amount is divided by the number of units within the association to determine each unit's/member's share. Special assessment amounts cannot vary by condominium unit within an individual association.
According to paragraph 9.10 of the Association's Bylaws, "Assessments for Common Expenses for emergencies that cannot be paid from the annual Assessments for Common Expenses shall be due only after ten (10) days' notice given to the Unit Owners concerned and shall be paid in such manner as the Board of Directors of the Association may require in the notice of such Assessments."  This provides the Board wide latitude in the timing and approach to collecting special assessments. They can be due with short notice, broken into multiple installments, and subject to late fees and interest.  Late fee maximums are $25.00 (if under $1,000), otherwise $50.00. Interest is 15% per annum starting with the due date. Finally, the special assessment letter should specify whether a grace-period is granted.
According to Statute 718.116(10) "Upon completion of such specific purpose or purposes (of the special assessment), any excess funds will be considered common surplus, and may, at the discretion of the board, either be returned to the unit owners or applied as a credit toward future assessments." Monies received from the special assessment must be tracked against actual expenditures for each included item to determine whether there are excess funds, and if the excess funds will be returned or applied toward future assessments.
Florida's New Texting & Driving Law
Texting and driving was already illegal in Florida, but the new law makes texting (including messaging, emailing and other forms of typing on a mobile device) a primary violation, rather than a secondary violation. That means police can stop you solely on suspicion of texting while driving. Next, it more broadly bans any use of a handheld cell phone while operating a motor vehicle in a designated school crossing or school zone or a road work zone.
Hands-free uses remain legal.
The penalties for these noncriminal traffic violations remain the same:
First Violation – $30 base fine plus court costs and fees.
Second Violation – A second violation within five years is considered a moving violation carrying a $60 base fine plus court costs and fees.
Drivers caught texting will also be dinged 3 points against their licenses.
Texting while driving became a primary offense on July 1, 2019.  The ban on handheld use in school and work zones can be enforced starting October 1, 2019 with an education period of warnings until January 1, 2020, when fines can be imposed.
Texting at a stoplight or while a vehicle is stationary is not an offense. Police and emergency personnel are exempted as are those receiving navigation, vehicle operation or safety information (traffic, weather, etc.).
Board Member Email Communications
Email communication continues to play a greater role in the Association's business.  We now have email addresses for a large percentage of our homeowners.  The management office, homeowners, Board members and our vendors are using email communications to replace many if not most of the traditional "snail mail" types of correspondence.  The Property Manager and Board of Directors conduct much of the day-to-day association business via email.  This leads to some interesting questions, several of which Florida statutes are beginning to address.  Please reference the Communication page of this website for an update on Board Member Email Communications.
Association Electric Vehicle Charging Stations
Senate Bill 630, approved in July 2021, established Florida law regarding installation of electric vehicle charging stations on condominium property.
FL Statute 718.113(9) now says that the Board may make available, install, or operate an electric vehicle charging station or a natural gas fuel station upon the common elements or association property, and establish the charges or the manner of payments for the unit owners, residents, or guests who use the electric vehicle charging station or a natural gas fuel station.
The installation, repair, or maintenance of an electric vehicle charging station or a natural gas fuel station under the statute does not constitute a material alteration or substantial addition to the common elements or association property. This means that a Board can install an electric vehicle charging station without owner approval.
For more information on Florida Senate Bill #630, please see the Governance page of this website.
Carlin Park Pickleball Courts
$200,000 in Zone 1 Impact Fee reserve funding was allocated for the construction of six pickleball courts at Carlin Park. Construction of the new courts is complete.  The new courts are located just north of the existing tennis courts, closer to Jupiter Bay, and accessible across and alongside the heart trail.
Replacement of Jupiter Bridge on US Hwy 1
The $133 million project to replace Jupiter's bridge over US Highway 1 will begin in early 2023 resulting in a 20-month road closure. During this period traffic heading south on Highway 1 will be required to veer right onto Alternate A1A via an improved intersection, and traffic heading north on US Highway 1 will be detoured onto Indiantown Road and then north onto Alternate A1A. (See following map.) The detour is necessary since the state doesn't have enough right-of-way space to allow traffic to be directed to one side of the bridge while it improves the other side.
The new Federal bridge over the Loxahatchee River will be 42 feet tall, which is 7 feet taller than the Indiantown Road bridge, allowing larger boats to pass without needing to open the bridge as often. The new bridge will include an observation deck, which will connect to Jupiter's Riverwalk.
To help assure project completion on schedule, the Florida general contractor, owner by Texas-based Southland Holdings, will receive a $3.5 million bonus if the detour around US 1 ends by July 25, 2024. The company will get an additional $1.5 million if two lanes of traffic in each direction are open by November 2, 2024.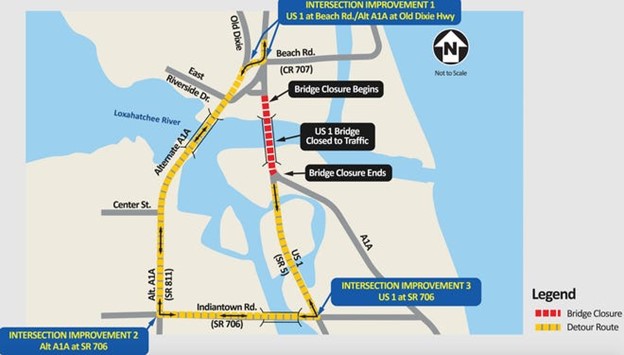 This posting is based on an article by Katherine Kokal published on 10/7/21 in the Palm Beach Post.
County Recommends 25-Year Condo Building Inspections
A committee within the Palm Beach County League of Cities developed a template that could be the basis for a new program to inspect aging buildings following June's collapse of the Champlain Towers South condominium in Surfside, FL.
The draft document serves as a starting point for local governments to adopt or alter, should they desire rules that require property owners to show that building maintenance is up to par.
The document proposes conducting inspections in the following order:
Buildings that are 25 years or older, east of Interstate 95, and 11,000 square feet or more.
Buildings 25 years or older and east of I-95 that are 3,500 square feet or more.
Buildings 35 years or older to the west of Interstate 95.
It also recommends inspections for buildings anywhere in the county that are 25 years or older and have modified balconies, decks or elevated walkways with tile or other materials. The draft suggests conducting subsequent structural and electrical inspections every 10 years and waterproofing inspections every five years. In most cases a visual review will be adequate to show cracks, leaking, or other issues.
It does not specify the year when these buildings would have to comply. That would likely be up to the adopting local government.
A building could be exempt from these inspections if it is government owned, a one- and two-family home, or smaller than 3,500 square feet.
According to the draft, building officials would have from October to December to notify property owners that their building is subject to inspection. The property owners would then have three months to send back a structural and electrical checklist to the county, and another six months to make repairs to issues that "pose an immediate threat to life safety."
The purpose of the required inspection and report is to confirm in reasonable fashion that the building or structure under consideration is safe for continued use under the present occupancy.
Derived from an 8/16/21 PBP article by Hannah Morse
Structural Building Repairs
Collapse of the Champlain Towers South Condominium in Surfside Florida has caused heightened concern regarding the structural integrity of Florida's other older high-rise condominiums. Miami-Dade and Broward Counties require buildings to be re-certified 40 years after construction, but no such requirement exists in Palm Beach County.
Although Jupiter Bay's buildings are not as high as Champlain Towers and are not adjacent to the ocean, they are approaching their 40-year anniversary and are experiencing the effects of South Florida's corrosive salt-water environment.
The Florida Legislature passed a law in 2008 requiring condominium associations to hire engineers or architects to inspect every 5 years any condominium building greater than 3 stories in height and submit reports regarding needed repairs. The report was to include required maintenance, useful life, and replacement costs of the common elements.  The law, under fire from real estate lawyers and property managers, was repealed two years later.
Nine states, excluding Florida, require condominium boards to do reserve studies, bringing in engineers and certified specialists, to inspect buildings and estimate repairs.
Jupiter Bay performed its last comprehensive reserve study in 2013. However, over the last decade we have had various engineering studies and have conducted major concrete restoration projects, spending over $2.0 million for identified repairs.
As reported on the JB News page of this website, the Association contracted Swaysland Professional Engineering last year (2020) to inspect our 14 buildings and identify needed concrete repairs.  The results of their inspection, also posted on this website, showed that 9 units and 5 walkways had severe damage. Projects to address these repairs will begin next spring (2022).
In a recent Palm Beach Post article, it was suggested that condominiums "should be setting aside as much as 40% of their assessments toward reserves." This year, we are contributing 25.8% of our annual assessment income to reserves and have built our building restoration/spalling account to almost $900,000. Based on recently identified repairs, this may be insufficient without additional special assessments.
FL Passes Emotional Support Animal Law
On July 1, 2020, Florida's legislature passed SB1084, which regulates emotional support animals in community associations. The new law:
Amends Florida's Fair Housing Act by prohibiting a housing provider from denying housing to a person with a disability or a disability-related need who has an emotional support animal. It defines emotional support animal as an animal that is not required to be trained to assist a person with a disability but, by virtue of its presence, provides support to alleviate one or more identified symptoms or effects of a person's disability.
Prohibits a housing provider from charging a person with an emotional support animal additional fees. It does allow a housing provider to prohibit the animal if it poses a direct threat to the safety, health, or property of others and to request written documentation that reasonably supports that the person has a disability. If a person requests to keep more than one emotional support animal, the housing provider may request information regarding the specific need for each animal and may require proof of licensing and vaccination requirements for each animal.
Prohibits a housing provider from requesting information that discloses the diagnosis or severity of a person's disability or any medical records relating to the disability. The housing provider is authorized to develop a routine process for reasonable accommodation requests.
Specifies that an identification card, patch, certificate, or similar registration obtained from the Internet is not, by itself, sufficient information to reliably establish that a person has a disability or a disability-related need for an emotional support animal.
Creates a new cause for disciplinary action against a health care practitioner's license for providing supporting information for an emotional support animal, without personal knowledge of the patient's disability or disability-related need.
For more information on Florida's 2020 Legislative Session, please see the Governance page of this website.
Unit Alteration Approvals
Alterations performed within a condominium unit are subject to certain restrictions and controls. Depending upon the type of alteration, both the worker and the work performed may be subject to local, county and state regulations and building codes as well as regulations imposed by the condominium association.
These regulations and controls are important in protecting the condominium unit owner, his/her neighbors and the association. Controls ensure that the unit owner deals with a licensed contractor, when required, who performs work according to code. They also help protect a unit's neighbors from water, fire or other damage caused by poor workmanship or negligence. The association, who owns the building as well as the unit's walls, floor and common areas used for the delivery of utilities (electric, water, cable and sewerage) is also protected.  In addition, controls ensure conformance to the association's rules regarding color, style, sound mitigation, and quality/performance.
Since the unit owner is solely responsible for the space within the walls of his/her unit and since they have considerable investment in their "home", it's important that they have flexibility in choosing who performs the alterations to their unit and the nature of the work performed. This imposes certain limitations on how much control the association should have and how onerous their approval process/requirements are. In general terms a simpler approval form and process encourages owner understanding and universal acceptance/conformity.
The number and types of alterations that can be made to a condominium unit are limited, allowing for the ability to create a list of all possible changes and to classify those changes as: A) Alterations requiring both a Town permit & association approval, B) Alterations requiring association approval but no Town permit, C) Owner Renovations Not Requiring Permits or Board Approval, and D) Prohibited alterations. Please reference the "Alterations" page of this website for this list and a simplified Condo Unit Alteration Notification & Approval Form.
Older Air Conditioners May Need to be Replaced
According to a September 17, 2019 article in the Palm Beach Post, Freon, needed by air conditioners installed before 2010, may not be available after January 1, 2020. Freon is the Dupont/Chemours Company brand for the refrigerant R-22. Since it will no longer be manufactured in the US or imported after year-end, Freon supplies will be limited and will eventually run out. This means that air conditions that require additional Freon may need to be replaced with new units that use the newer R-410A refrigerant.
Replacement includes both the compressor outside the unit and the air handler inside the unit.  Although retrofitting a current air conditioner to use R-410A is an option, it may be more cost-effective to replace a current air conditioner with a newer, more energy-efficient unit. Another factor to consider in the purchase of a new unit is that the new refrigerant is less efficient than Freon and may require upgrading to a larger unit. For example a 2-ton unit may need to be upgraded to a 2.5 ton unit to obtain equivalent cooling capacity.
Town of Jupiter & Harbourside Resolve Violations
The Town of Jupiter announced in June 2021 that it reached a settlement with Harbourside Place to resolve current and future event violations related to some of the company's approval terms.  Harbourside previously admitted to 20 violations of the Town Code and paid a fine and costs related to these.
The settlement includes the following:
Harbourside will submit a new master plan, subject to approval by the Jupiter Town Council.
Up to 18,000 square feet of retail space will be converted to office or restaurant use.
Jupiter Town Council will have the authority to review and approve an annual event calendar for Harbourside, including up to 10 events that can feature live music.
Harbourside will be able to request up to 24 community events annually, including the 10 concerts. The events would be approved as part of the annual review, rather than requiring individual permits.
Resolution of the $1.3 million tax incentives withheld by Jupiter. $300,000 of this will be transferred to Harbourside.
Top Beaches in Palm Beach County
According to a January 15th, 2016 article in the Palm Beach Post, we have the top 4 Palm Beach County beaches at our doorstep or a short drive away.  They are:
Coral Cove: This tiny Tequesta beach, which is the northernmost in Palm Beach County, attracts snorkelers to its rocky shore. Bonus: You can walk to the sublime Blowing Rocks Nature Conservancy from there.  Location: 1600 S. Beach Road, Tequesta, 561-624-0065, free parking
Carlin Park: What are you looking for in a beach experience? You'll likely find it in Jupiter's megapark, the largest county-maintained beach park, which comes with a side of soft, clean sand.  Location: 400 S. State Road A1A, Jupiter, 561-629-8775, free parking
Juno Beach Park: The Juno Beach Pier is the crown jewel of this stretch of coastline, and it costs only a buck to stroll its 990-foot length.  Location: 14775 U.S. 1, Juno Beach, 561-624-0065, free parking
John D. MacArthur State Park: The county's only state park, MacArthur is a must-visit attraction for nature lovers in this neck of the mangrove forest. A walk across a 1/3-mile boardwalk leads to an undeveloped, and typically unpopulated, beach.  Location: 10900 Jack Nicklaus Drive, North Palm Beach, 561-624-6952, $5 per vehicle ($4 for single-occupant vehicle or motorcycle)
Rental of Homesteaded Property
The restrictions on renting your homesteaded property are strict and confusing.
According to FL Statute 196.061 and the Palm Beach County Tax Appraiser's Website, "You may rent your homesteaded property for 30 days or less per calendar year and maintain a homestead exemption.  Rental for more than 30 days for two consecutive years or for more than six months constitutes abandonment of a homestead exemption.
Exempt property rented after January 1 of any year does not affect the homestead exemption for that particular year. If the property is rented on January 1 of the following year or the terms of the lease are six months or more the exemption will be denied.
Property owners are required to notify the Property Appraiser's Office when their property no longer qualifies for exemption. Failure to do so could result in a Homestead Tax Lien with substantial penalty and interest."
"Condo Consultants" Clarify Board Meeting Notice Requirements
In their April 6th, 2014 Palm Beach Post column, Gary A. Pollakoff and Ryan Pollakoff (The Condo Consultants) provided further clarification regarding Board Meeting notices.  They said that "the Condo Act states that adequate notice of board meetings must be posted 48 hours in advance of the meeting.  There is no stated exception.  Separately, the act states that meetings where personnel issues are discussed may be closed to owners.  But, it does not additionally say that such meetings do not need to be noticed, and so, reading between the lines (as one must often do when interpreting statutes), all board meetings must be noticed, whether or not they are open to owners.  This includes legal meetings and personnel meetings.
Remember, notice of board meetings is intended to benefit the individual board members, as well as the owners."
Defense of Foreclosure
When the taxing authority or mortgage holder forecloses on a condominium unit, the condominium association, as an interested party, receives notice. They then engage the services of their attorney to defend them in the foreclosure action. The expense associated with a Defense of Foreclosure cannot be charged to the negligent unit owner if that owner has paid all of their assessments on time, unless this is provided for in the association's documents. This is a flaw in the Florida condominium statutes that needs to be addressed.
Following is the text from my complaint, filed on 4/27/16 with the Division of Florida Condominiums, Timeshares and Mobile Homes:
The Jupiter Bay Condominium Association is a multi-condominium association comprised of eight individual associations, 14 buildings, and 359 units. In August 2011 a mortgage servicer filed a mortgage foreclosure action against one of our Association members. Our Association was advised of the foreclosure and, as an interested party in the mortgage foreclosure, engaged the services of an attorney to defend our interests. Our attorney advised us that it was the Board's fiduciary responsibility to engage the services of an attorney in Defense of Foreclosure and that this was not optional.
Over the past 4 ½ years there have been dozens of court filings associated with this mortgage foreclosure, months of bank negotiations, extensive correspondence among attorneys, and several sell auctions scheduled and rescheduled. This April the condominium owners, who defaulted on their mortgage, negotiated a revised payment plan with their mortgage holder.
Our Association accumulated $10,000 (36.4 hours @ $275/hour) in Attorney fees over the course of the 4 ½ year period. These fees were charged to the condominium owners who were negligent in meeting their mortgage payments and responsible for the Association's expense. The condominium owners, who felt they were wronged by the Association, filed a Summary Judgment against the Association to 1) get to the case dismissed, 2) remove the Association's attorney fees from their account, and 3) obtain reimbursement for their own attorney fees. The court ordered mediation as an attempt to resolve the dispute.
The mediation settlement cost the Association $10,750 as payment for the defendant's attorney. We were unable to get reimbursed for any Association fees. Therefore, this negligent action by a member of our Association cost us over $20,000 in total, and it necessitated a special assessment for other members. This was because the Florida Statutes do not give an Association the right to assess the negligent owner for attorney fees associated with our Defense of Foreclosure. This is a serious flaw in Florida Statute 718 that must be remedied immediately.
I recognize that this is somewhat unorthodox to be writing a complaint against Florida's condominium associations' governing body; however, I'm not sure what recourse is available. The interest of the Association and its members must be protected in bank and tax lien foreclosures against its members.
Ryan Poliakoff Says "Employee Salaries can be Revealed"
The Condominium Act was amended a few years ago to specify that, among the documents that are not inspect-able by unit owners are "personnel records of association or management company employees, including, but not limited to, disciplinary, payroll, health and insurance records." This was done in an effort to protect personal employee information. But the statutes also state that the term "personnel records" does not include written employment agreements with an association employee or management company, or budgetary or financial records that indicate the compensation paid to an association employee.
So it is not the salary, itself, that is protected. If that salary can be found in an employment agreement, or if it is a line item in the budget, or if it is within the association ledger, or the check register (or if the association maintains copies of canceled checks), you can make a written request to inspect those records and find out the salaries. Also, you have a right under the Condo Act to send a written inquiry to the board of directors, by certified mail, and the board must respond to that inquiry within 30 days (or a longer time frame if they seek the advice of the Division of Condominiums, or legal counsel).
Mr.  Poliakoff goes on to say that "I have never dealt with the issue directly, but I think an argument can be made that, given that the salary, itself, does not appear to be protected information, the board would have to answer a written inquiry regarding these salaries. Perhaps this is a loophole in the law or perhaps the division would find, if pressed, that the Legislature did in fact intend for employee salaries to be private, except in the limited instance when the salary is referenced in another, otherwise inspectable record."